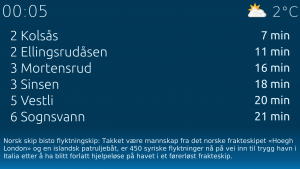 This apps shows your realtime data from all your nearest stops. Add all stops of your choice and the app will immediately fetch information about the next travels from Ruter.
The app also shows the weather for the next hours and the latest news from NRK.
Would you like a special version or for us to install a monitor at your office? Contact us by e-mail at sanntid@dragly.org.